Description
Do you feel like you're not living up to your full attractiveness potential because of some minor details? 
We all have areas where we could use a little help. Maybe your hair is dry and frizzy, or thinning and falling out. Maybe your nails are yellow and peeling, or your skin is dry. These are all minor details that can have a significant impact on our confidence.
S-GLOW can help! Our patented ingredients Lynside® Forte B from France and 8 essential B vitamins can help to improve the condition of our skin, making you look and feel more attractive.
7 IMPORTANT S-GLOW IBLING BENEFITS
SGLOW INGREDIENTS: 
High percentage of collagen
S-GLOW's component is ideal for maintaining the health of your skin, hair, and nails. Collagen has been shown to improve hair elasticity and thickness while also preventing hair loss and thinning. Because collagen is necessary for maintaining good skin health, it can help preserve skin suppleness and hydration, preventing wrinkles. Also, not many people are aware of the importance of collagen in maintaining nail strength and preventing brittle nails.
Oryza Polyamine 
S-GLOW also contains Oryza Polyamine, a trademarked Japanese substance produced from rice germ that promotes hair development and shine. Its molecular weight is less than 250, indicating that it absorbs more quickly and is efficiently distributed and utilized by the body. Meanwhile, as a precursor to glutathione, L-cysteine in S-GLOW can make your skin glow like an angel. It aids in the reduction of skin melanin index, hence reducing skin pigmentation and resulting in fairer skin.
Vitamin C
which has synergistic effects, is the other functional component chosen for inclusion in S-GLOW. Vitamin C and collagen are mutually beneficial. Our bodies will not be able to create or keep collagen if we don't get enough Vitamin C.
SGLOW Ingredients, Serving / Direction for Use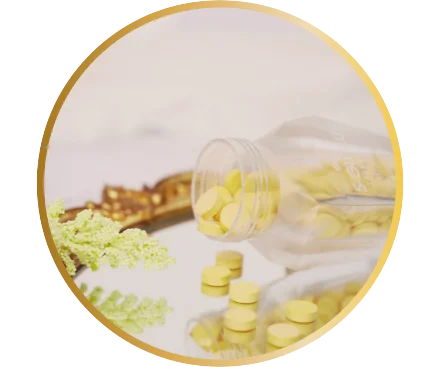 Serving per Bottle: 60 tablets per bottle.
Taking the first step to a beautiful skin glow is as easy as taking 2 tablets, 30 minutes before breakfast. The Lemon peach flavor chewable tablets will give you that morning boost of energy and zesty taste on your journey towards healthier-looking cells!
Frequently Asked Questions
How long will it take for me to notice effects and how long will they last?
Because everyone's absorption ability is different, the results vary. You can see the results faster if the person has a higher absorption ability.
Can eczema sufferers use S-GLOW?
They have the option to try. It includes collagen, which aids in wound healing and hence improves skin quality.
Is it possible for S-GLOW to help with hair loss?
Yes. S-collagen GLOW's can help to strengthen hair roots and follicles, preventing hair loss. It also contains Oryza Polyamine, an organic substance found in rice extract that helps to extend the hair follicle's growth phase, resulting in increased hair growth.
Collagen is already a part of my skincare routine. Is it still possible for me to take S-GLOW?
The effects of topical collagen are not the same as those of oral collagen supplementation. Because topical collagen is too big to enter the skin, it does not promote collagen formation at the cellular level as collagen supplementation does.
If I stop taking it, will my skin return to normal or worsen?
This supplement, on the other hand, uses natural ingredients to help alleviate skin problems both internally and outwardly. It promotes anti-aging and bleaching by regulating skin metabolism. Your skin will remain glowing and smooth even if you stop eating. Due to everyday exposure to UV-rays, pollution, and free radical damage, we recommend taking one tablet per day for maintenance.
Antioxidants and collagen are found in S-GLOW. Is it possible to combine it with other antioxidant and collagen supplements?
Yes. It is a nutrient-dense food. It's okay to take it with other vitamins. Follow the label's stated directions and recommended amount.
Can women take S-GLOW when they are on their menstrual cycle?
Yes, It does not contain any hormones and does not affect the female hormone system, so it will not affect their menstrual cycle.
S-GLOW is safe for pregnant and breastfeeding women.
Yes. The fetus absorbs a substantial amount of collagen from the mother during pregnancy, leading the mother to lose her own collagen. This will result in dry, pale skin that has lost its flexibility. Vitamin B9 (folic acid), which can lessen the incidence of birth abnormalities, is also beneficial to pregnant women. However, if the mother has a medical condition, please seek medical advice before consuming. It also contains collagen derived from fish, so it's crucial to know if you're allergic to that.
Is it true that collagen promotes hair growth?
Yes. Collagen amino acids may be used by your body to produce hair proteins and strengthen your scalp. It also protects hair follicles from deterioration and graying.
Can S-GLOW help persons with androgenetic alopecia?
Hair thinning in both men and women is caused by androgenetic alopecia. Drug therapy, hair transplantation, and other treatments are available. Although It does not directly benefit persons with androgenetic alopecia, the nutrients in it may help to rebuild hair follicles and halt further hair loss.
How might Ascorbic Acid (Vitamin C) help my hair stay healthy?
Collagen and Ascorbic Acid (Vitamin C) combined in it will have a synergistic effect. Collagen formation will be aided by vitamin C. Collagen is a crucial component of the hair structure. Vitamin C also functions as an antioxidant, protecting hair from free radical damage that can cause split ends and breakage.
My nails have a brownish pigmentation. Is S-GLOW effective in resolving this issue?
Vitamin B12 deficiency can cause blue nails, bluish-black pigmentation, or brownish pigmentation. Vitamin B9 deficiency will also change the color of your nails and make them hard and brittle. Due to the Lynside? Forte B component, which is filled with the whole range of Vitamin B complex, it can assist to improve the condition.
What role does S-GLOW have in sunburn recovery?
After being exposed to sunshine, it can help you recover faster. Due to sunburn, UV rays promote collagen loss. Collagen supplementation is required by our bodies to restore the skin. In addition, being a precursor of glutathione, L-cysteine has a whitening effect by inhibiting the development of melanin (black pigment). Aside from that, it moisturizes dry skin caused by sunburn.
Is it possible for S-GLOW to boost my general health? Should I include it in my supplements plan?
It is a fantastic supplement to add to your supplement regimen. It nutrients have additional health benefits in addition to boosting hair, nail, and skin health. S-8 GLOW's important Vitamin B complex, for example, can boost the immune system, minimize bacterial infection inflammation, and is necessary for a healthy brain system. Collagen may assist to minimize the incidence of bone problems including osteoporosis, while L-cysteine and Ascorbic Acid aid to neutralize free radicals that harm our body's cells and tissues.
S-GLOW can be used by consumers who are allergic to shellfish.
Because seafood is high in protein, some people may develop seafood allergies. When protein molecules are overly big, they can be difficult to digest and absorb for some people. This will trigger the immune system either directly or indirectly, resulting in sensitivity or allergic reactions. Collagen in this product is derived from fish and has a very low molecular weight. It's not easy to trigger an allergic reaction. The effect, however, differs from person to person.
Is S-GLOW safe for persons who have kidney disease?
It can be used in low doses by patients with stage 1 and 2 renal diseases. It is not suggested that people with stage 3 and 4 renal failures take any supplements.
What is the collagen source in S-GLOW?
S-collagen GLOW's is made entirely of low molecular marine collagen.