Description
EROJAN is a health supplement that helps men manage their testosterone levels. Testosterone is a male-specific building block that acts as the primary source of energy.
Testosterone, a male dominant hormone, is essential for muscular development, bone mass, and fat distribution. The body will feel exhausted and lethargic as a result of low testosterone levels, eventually losing overall energy.
Testosterone is also necessary for sustaining fertility, building muscles, boosting bone density, and supporting psychological well-being. As a result, it is seen as a man's "power."
According to one study, testosterone levels in men diminish by 1% per year once they reach the age of 30. As a result, you'll notice changes in your body as you become older, such as major weight gain, muscle loss, weak stamina, diminished motivation, emotional imbalance, and poor sleep quality (insomnia).
It's critical to maintain your "power" at its maximum level by ensuring that your testosterone levels are at their highest. EROJAN is here to assist you in this endeavor!
EROJAN BENEFITS:
EROJAN Ingredients, Serving / Direction for Use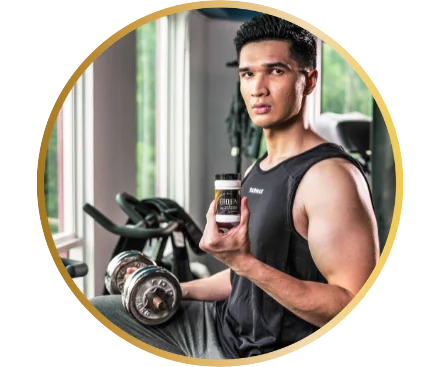 Serving Per Bottle: One bottle contain 60 tablets.
Take 2 tablets per day after meal.
What are you waiting for? Stop enduring low-performance and start experiencing high performance! Go Fit Organic is set out on delivering this power booster with free delivery anywhere in New Zealand! Contact us today and we'll be able to answer any questions about this powerful energy booster.
Frequently Asked Questions
What is the purpose of Maca?
MACA improves sperm quality, enhances energy and athletic performance, and increases muscular size and strength, all of which increase male fertility.
Butea superba's function is unknown.
Bone density and strength are improved with Butea superba. It contains phytonutrients and flavonoids, which help the heart by improving circulatory function.
What role does Cuscuta Chinensis play?
The Chinese herb Cuscuta Chinensis is a liver tonic. It protects the liver from oxidative damage and decreases hepatotoxicity by boosting superoxide dismutase, glutathione peroxidase, and catalase levels.
What is Tribulus terrestris's function?
Tribulus terrestris' main active ingredient is saponin. It aids in the growth of the coronary artery, circulation improvement, and blood flow enhancement.
What exactly is the purpose of Horny goat weed?
Horny goat weed includes icariin, a natural revitalizing tonic that aids in nerve protection, enhanced blood flow, and combats fatigue and increases vigor.
EROJAN is suitable for vegetarians and vegans.
Yes. The components of this supplement are all derived from plants. It is vegetarian and vegan friendly because it employs a vegetable capsule rather than a bovine capsule.
How long does it take EROJAN to increase vitality?
It is a herbal medicine that is manufactured entirely of natural materials. As a result, it may take weeks to observe any benefit. After 2-4 weeks of use, users will notice a boost in energy and endurance.
Will taking EROJAN interfere with my sleep?
It will not affect your sleep quality, however if you are experiencing difficulties sleeping, it is preferable to take it first thing in the morning.
Is EROJAN associated with any side effects?
It has yet to be connected to any serious side effects. However, the influence on each individual may be different.
Can a dialysis patient take EROJAN?
It is advisable to avoid using this supplement when on dialysis. Before taking any supplements, please visit your doctor.
Can EROJAN be taken by someone who is undergoing chemotherapy or radiotherapy?
Do not offer supplements to patients who are receiving radiation therapy or chemotherapy. Two weeks prior to the start of treatment, you should stop using supplements. It can be taken 30 days following surgery as long as the wound has healed completely.
Will EROJAN have a 'long-lasting' effect on me?
It is a supplement that can assist men improve their overall health, energy, and vitality. Expect no quick or long-term results because this is traditional therapy.
Is EROJAN a type of medication?
The National Pharmaceutical Regulatory Agency has approved it as a traditional medication (NPRA).
Can EROJAN be used by someone who has glucose-6-phosphate dehydrogenase (G6PD)?
Yes. Fava beans, legumes, or drugs that can cause hemolytic anemia are not found in this product.
Can EROJAN be taken by children?
It is not recommended for children because it is designed for male adults.
What would happen if a woman inadvertently took EROJAN?
If a woman unintentionally consumes EROJAN, she should not be concerned because this drug is only for men.
Can someone who is taking a blood thinner take EROJAN?
Avoid it if you are using a blood thinner because it contains horny goat weed, which can cause bleeding and bruising. Before using this supplement, talk to your doctor, or start with a low dose and stop if you have any bleeding or bruises.
Can EROJAN be used to treat erectile dysfunction?
As all of the herbs are supposed to enhance testosterone, It can help avoid erectile dysfunction, but it will not deliver an instant erection. Instead, it can progressively lessen or prevent erectile dysfunction.
Who is a good candidate for EROJAN?
It is a wonderful choice if you're in your late twenties and wish to keep your vigor. Even if you are 60 or older, you can take it.
Is it safe for a heavy drinker to take EROJAN?
It may be used by heavy drinkers since it contains Cuscuta Chinensis, which is commonly utilized to strengthen the liver, protect it from oxidative damage, and boost Superoxide dismutase in the liver.
Why am I experiencing no side effects after taking EROJAN?
It is a traditional medicine supplement that needs time to balance body function, thus benefits may take 2-4 weeks to appear, however some people may require more time.
Is it possible for a woman to become infertile after taking EROJAN?
Although it is designed for males, it will not cause infertility in women if they take it by accident.
Is EROJAN going to make my body hot?
Since the plants in EROJAN are tonics in Traditional Chinese Medicine, persons with a hot-prone body should avoid taking it because it may cause the body to become hot. For healthy people, the EROJAN dosage is one capsule every 1-2 days. In addition, a lack of water could explain a rise in body temperature. It is recommended that customers drink at least 2 liters of water per day because water can assist lower body temperature.